UPDATE 3-12-2019: The church directory at www.biblebelievers.com/churches no longer exists.  That address now redirects to the fundamental.org directory, which is too inclusive.  So now I would recommend KJVchurches.com which is similarly inclusive, but also more organized, detailed, and up-to-date.
---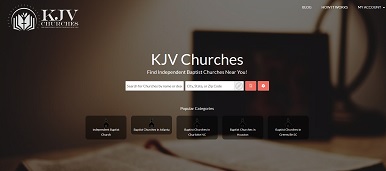 No church is perfect, and we cannot guarantee that any specific church is right for you, but there are thousands of churches out there, and these guidelines should help narrow down your search.  Also, PRAY for God to lead you to the right church.  There may be some good churches which are not even listed on the internet.
Go to kjvchurches.com and search for churches near you.  When you click on a church, look for the "Church Tags."
Churches with these Tags are typically the BEST CHURCHES:
"Dispensational"     (That means they apply different parts of the Bible to the right people and time periods.)
"Ruckman"     (They learned from Dr. Peter Ruckman, a dispensational pastor and author.)
"PBI"     (The pastor is a graduate of Pensacola Bible Institute.)
"Gipp"     (They are affiliated with Dr. Sam Gipp, a travelling preacher and author.)
"Estep"     (They are affiliated with Dr. Greg Estep's Charity Baptist Bible Institute.)
AVOID churches with these Tags – These are REALLY BAD CHURCHES:
"Not KJV"     (They are against God's English Bible, and they prefer fake bibles.)
"Free Will"     (They teach the heresy that a Christian can "lose his salvation.")
"Calvinist"    (They teach the blasphemous heresies of John Calvin, who said God wants people to go to hell.)
"Mid-Acts Dispensational"     (They teach a perversion of dispensationalism.)
---

kingjamesbiblehousechurchdirecto.weebly.com
This directory lists people who have (or are seeking someone to start) a "house church" – a church that meets in a house instead of a public building. Some of these individuals overstate meeting in a house as a doctrinal requirement and meeting in a building as a sign of apostasy. But aside from that quirk, if one of these house churches is the only King James Bible believing church in your area, it might be better than nothing.
---
---